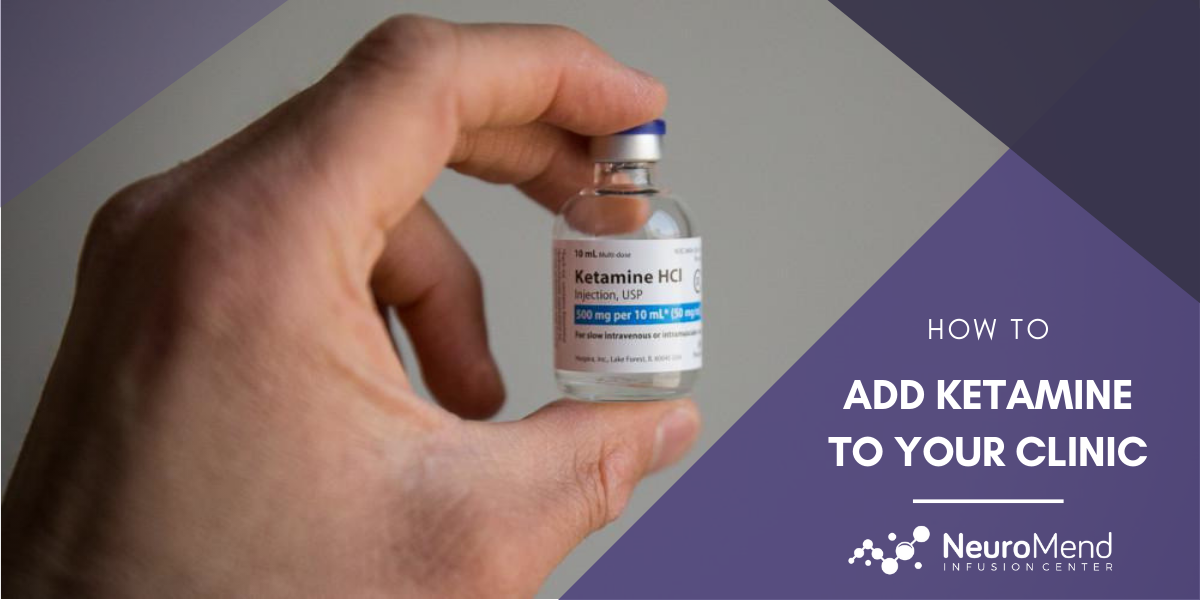 While some medical clinics continue to look for ways to thrive or survive during this COVID-19 pandemic, some clinics have chosen a new offering to tack on to their existing niche or specialty that is adding new patients and new revenue to their business model.
Keep reading to see why adding Ketamine infusions to your existing medical practice could be the boost you need to thrive in a struggling medical space while offering treatment resistant depression patients a light at the end of a very dark tunnel.
What Are Ketamine Infusions and What Can They Be Used For?
While the purpose of this blog is education, we want to make sure we are educating on the proper subject.
We have written extensively about Ketamine infusions and all the symptoms that they can be and are currently used for successfully in clinics across the nation.
See our most educational blogs below:
For the purpose of this blog, we want to educate clinicians on the benefit and ease of adding Ketamine infusions as an offering in their existing clinic model.
Is It Expensive To Start Offering Ketamine In My Clinic?
Surprisingly, no.
Most clinicians and clinic owners can start offering and charging patients for Ketamine infusions for less than a $15,000 up front investment depending on what they are currently offering in their clinic and the types of equipment that is already there.
What Type of Staff Do I Need To Hire To Start Offering Ketamine To My Patients?
This question, along with the following, are the top questions we get from clinics calling about how to start offering Ketamine to their patients:
Read More About Adding Ketamine to Your Clinic
Fortunately, for clinicians interested in starting a Ketamine clinic or simply wanting to add this service to their clinic, we have created an in-depth ebook that answers all of these questions for you.
Click below to download our latest publication and see how easy it is to start helping more patients and ensuring profitability during these uncertain times!
LET US HELP YOU CREATE AND DEVELOP YOUR KETAMINE INFUSION CLINIC
NeuroMend Infusion Center is an evidence-based center of excellence, offering ketamine infusion treatment for patients whose depressive disorders are considered treatment-resistant and many patients with complex neuropathic pain disorders.
Inspired by the many lives changed from these ketamine infusions and the overall success of Neuromend, our ketamine consulting division was established to help others with the process of starting a ketamine clinic and achieving the success and satisfaction of helping those in need.
Logo & brand identity development

Website, digital marketing & online intake forms

Payment processing

Insurance consulting

Equipment purchasing & office setup

Scheduling & record-keeping

Treatment protocols / Operations manual

Ongoing support to make you a successful ketamine provider
We offer turnkey, comprehensive services
Neuromend Ketamine Consulting excels at assisting entrepreneurial physicians establish their own ketamine clinics.
We offer turnkey, comprehensive services that propel clients towards success in this revolutionary & vastly rewarding area of practice.
*We cannot promise that our protocols meet each state's regulatory guidelines and recommend you have them approved by you own state healthcare attorney.
---

We are an Evidence-Based Center of Excellence and the leading provider of Ketamine Infusions, IV Infusions and Ketamine Consulting Services for Ketamine Clinics and IV Therapy Clinics.

We Provide Effective Treatment For The Following Conditions: Major Depressive Disorders, Post-traumatic Stress Disorder (PTSD), Bipolar Depression, Obsessive Compulsive Disorder (OCD), Chronic Migraines, Severe Anxiety, Fibromyalgia and Chronic Pain Syndromes - REMS Certified for Offering Spravato Esketamine