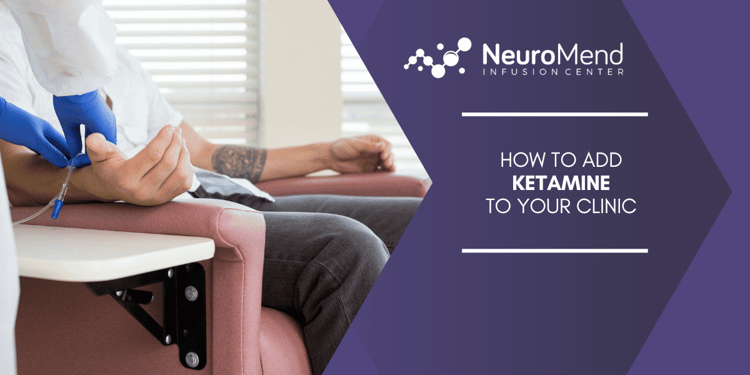 While some medical clinics continue to look for ways to thrive or survive during this COVID-19 pandemic, some clinics have chosen a new offering to tack on to their existing niche or specialty that is adding new patients and new revenue to their business model.
Keep reading to see why adding Ketamine infusions to your existing medical practice could be the boost you need to thrive in a struggling medical space while offering patients with mood disorders or neurological pain a light at the end of a very dark tunnel.
What Are Ketamine Infusions and What Can They Be Used For?
In short, a ketamine infusion involves the controlled administration of the dissociative anesthetic ketamine through an intravenous (IV) drip. Initially developed for anesthesia purposes, ketamine has gained attention for its potential therapeutic effects in treating conditions such as depression, anxiety, and chronic pain. This newer approach is being explored as an alternative for individuals who have not responded to traditional treatments, showing promise in certain mental health and pain management contexts.
While the purpose of this blog is education, we want to make sure we are educating on the proper subject.
We have written extensively about ketamine infusions and all the symptoms that they can currently be used for successfully in clinics across the nation.
See our most educational blogs below:
For this blog, we want to educate clinicians on the benefit and ease of adding Ketamine infusions as an offering in their existing clinic model.
Is It Expensive To Start Offering Ketamine In My Clinic?
Surprisingly, no.
The cost of incorporating ketamine infusion therapy into a clinic can vary based on several factors. Factors influencing the expense include the dosage and frequency of treatments, the cost of ketamine itself, medical supervision, equipment, and facility requirements. Additionally, staff training and certifications, as well as compliance with regulations, may contribute to the overall investment.
Most clinicians and clinic owners can start offering and charging patients for Ketamine infusions for less than a $15,000 up front investment depending on what they are currently offering in their clinic and the types of equipment that is already there.
What Type of Staff Do I Need To Hire To Start Offering Ketamine To My Patients?
To start offering ketamine infusion therapy in your clinic, you'll need a specialized team with the appropriate qualifications and training. Here are key roles to consider:
Medical Director/Supervising Physician: A licensed physician should oversee the ketamine infusion program. This professional is responsible for patient assessments, treatment planning, and ensuring compliance with medical regulations.

Certified Registered Nurse Anesthetist (CRNA), Registered Nurse (RN) or Nurse Practitioner (NP): Skilled nursing staff is crucial for administering ketamine infusions, monitoring patients during treatments, and managing any potential side effects. They also play a key role in patient education and follow-up care.

Administrative Staff: Personnel for scheduling appointments, managing patient records, and handling administrative tasks are essential to the smooth operation of the ketamine infusion program.

Mental Health Professional: Depending on your clinic's approach, having a mental health professional such as a psychiatrist or psychologist may be valuable. They can assist in patient assessments, provide counseling, and collaborate with the medical team.

Facility Coordinator or Manager: If ketamine infusion services are provided in a dedicated facility, a manager can oversee the day-to-day operations, facility maintenance, and compliance with safety regulations.
It's important to ensure that all staff members receive appropriate training in administering ketamine, understanding potential side effects, and managing emergencies. Collaboration and communication among team members are critical to delivering safe and effective ketamine infusion therapy. Additionally, compliance with local and national regulations is essential for legal and ethical practice.
This question, along with the following, are the top questions we get from clinics calling about how to start offering Ketamine to their patients:
Click below to download our latest publication and see how easy it is to start helping more patients and ensuring profitability during these uncertain times!
NeuroMend offers comprehensive KETAMINE CONSULTING services
NeuroMend Infusion Center is an evidence-based center of excellence, offering ketamine infusion treatment for patients whose depressive disorders are considered treatment-resistant and many patients with complex neuropathic pain disorders.
Inspired by the many lives changed from these ketamine infusions and the overall success of NeuroMend, our ketamine consulting division was established to help others with the process of starting a ketamine clinic and achieving the success and satisfaction of helping those in need.
Logo & brand identity development

Website, digital marketing & online intake forms

Payment processing

Insurance consulting

Equipment purchasing & office setup

Scheduling & record-keeping

Treatment protocols / Operations manual

Ongoing support to make you a successful ketamine provider
CREATE AND DEVELOP YOUR KETAMINE INFUSION CLINIC with neuromend
Experience the incredible transformations that have given hope to countless patients. Let us guide you in making a positive impact on the lives of thousands of deserving individuals while building a thriving business of your own.
With our comprehensive ketamine clinic consulting services, we are here to address any inquiries you may have. Discover more at the link below and take the first step towards a brighter future today!
Disclaimer: As of September 29, 2023, NeuroMend no longer offers Spravato treatments. We apologize for any inconvenience and encourage you to consult with our team or your healthcare provider for alternative options.
*We cannot promise that our protocols meet each state's regulatory guidelines and recommend you have them approved by you own state healthcare attorney.
---

We are an Evidence-Based Center of Excellence and the leading provider of Ketamine Infusions, IV Infusions and Ketamine Consulting Services for Ketamine Clinics and IV Therapy Clinics.

We Provide Effective Treatment For The Following Conditions: Major Depressive Disorders, Post-traumatic Stress Disorder (PTSD), Bipolar Depression, Obsessive Compulsive Disorder (OCD), Chronic Migraines, Severe Anxiety, Fibromyalgia and Chronic Pain Syndromes