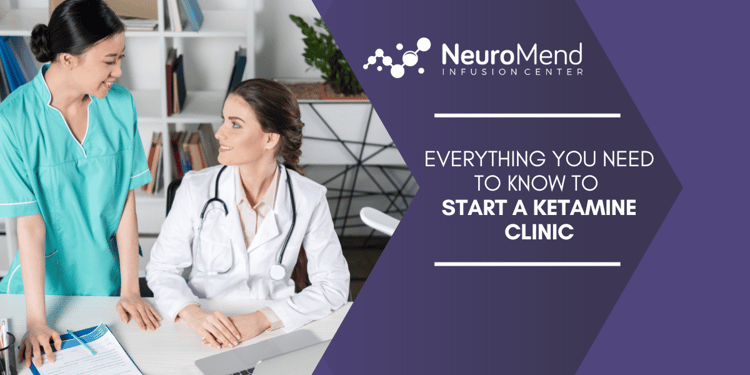 The demand for ketamine infusion therapy is growing at an exponential rate. As the mounting research supports the use of ketamine infusions for treatment resistant depression, other mental health disorders such as suicidal ideations, as well as multiple forms of chronic neuropathic pain, patients are opening their minds to the hope behind ketamine infusions.
By becoming a ketamine provider, and adding ketamine to your clinic, you can bring this hope to those suffering from these debilitating mental and physical conditions - while also establishing a successful business.
STARTING A KETAMINE CLINIC
From the moment we opened our doors, NeuroMend Infusion Center has grown to become a well-known and trusted ketamine infusion clinic that continues to go above and beyond to help in patient recovery.
Not only have we successfully performed thousands of ketamine infusions, but we have also developed a strategic business model that allows us to offer the most clinically researched and affordable ketamine infusions in the US, without sacrificing the comfort of our patients or the quality of our services.
Ketamine infusion PROTOCOLS AND OPERATIONS MANUAL FOR YOUR CLINIC
One of the most searched topics on the internet for those looking at starting a ketamine clinic is Ketamine Infusion Protocols. We faced this tremendous task for you, through tireless research and our own due diligence while starting our clinic.
The information you are looking for does not exist on Google unless you desire to spend months of your own time and resources to read through, study and parcel out the latest and most reliable pieces of research to date. Our Ketamine protocols*, procedures and tools are what we gathered from examining a multitude of meta-analyses and studies.
Each protocol we created is approved by our medical director and mental health team. We stand behind our commitment to being an evidence-based center of excellence.
We will uphold this approach as we relentlessly discover new information and improve upon these Ketamine Infusion Protocols. We have included research used in the development of many of our protocols in the links below.
Ketamine Infusion Protocol Research
Intravenous Ketamine Infusions for Neuropathic Pain Management: A Promising Therapy in Need of Optimization

Proposal for practice guideline Low dose ketamine infusion in the management of chronic non-cancer pain

Acute Pain Management: Scientific Evidence
Through this research and protocol development, we have also developed a fully functional Ketamine Infusion Clinic Operations Manual.
Here is some additional research you may find valuable
NeuroMend offers comprehensive KETAMINE CONSULTING services
NeuroMend Infusion Center is an evidence-based center of excellence, offering ketamine infusion treatment for patients whose depressive disorders are considered treatment-resistant and many patients with complex neuropathic pain disorders.
Inspired by the many lives changed from these ketamine infusions and the overall success of NeuroMend, our ketamine consulting division was established to help others with the process of starting a ketamine clinic and achieving the success and satisfaction of helping those in need. Currently located in Louisiana, we remain dedicated to our mission and serving our community.
NeuroMend can offer you all of the following services
Logo & brand identity development

Website, digital marketing & online intake forms

Great CRM tools

Payment processing

Equipment purchasing & office setup

Scheduling & record-keeping

Treatment protocols

Operations Manual

Ongoing support to make you a successful ketamine provider
CREATE AND DEVELOP YOUR KETAMINE INFUSION CLINIC with neuromend
Let us guide you in making a positive impact on the lives of thousands of deserving individuals while building a thriving business of your own. NeuroMend Ketamine Consulting excels at assisting entrepreneurial providers to establish their own ketamine clinics and ensures these clinics are properly equipped and prepared for the road ahead.
With our comprehensive ketamine clinic consulting services, we are here to address any inquiries you may have. Discover more at the link below and take the first step towards a brighter future today!
NEW! Check out Drip IV Lounge & Aesthetics in Baton Rouge, La!
Disclaimer: As of September 29, 2023, NeuroMend no longer offers Spravato treatments. We apologize for any inconvenience and encourage you to consult with our team or your healthcare provider for alternative options.
*We cannot promise that our protocols meet each state's regulatory guidelines and recommend you have them approved by your own state healthcare attorney.
---

We are an Evidence-Based Center of Excellence and the leading provider of Ketamine Infusions, IV Infusions, and Ketamine Consulting Services for Ketamine Clinics and IV Therapy Clinics.

We Provide Effective Treatment For The Following Conditions: Treatment Resistant Depression (TRD), Post-traumatic Stress Disorder (PTSD), Bipolar Depression, Obsessive Compulsive Disorder (OCD), Chronic Migraines, Severe Anxiety, and Fibromyalgia
Learn more about Semaglutide for weight loss. Check out our partner Drip IV who offers Semaglutide in Baton Rouge, La.