---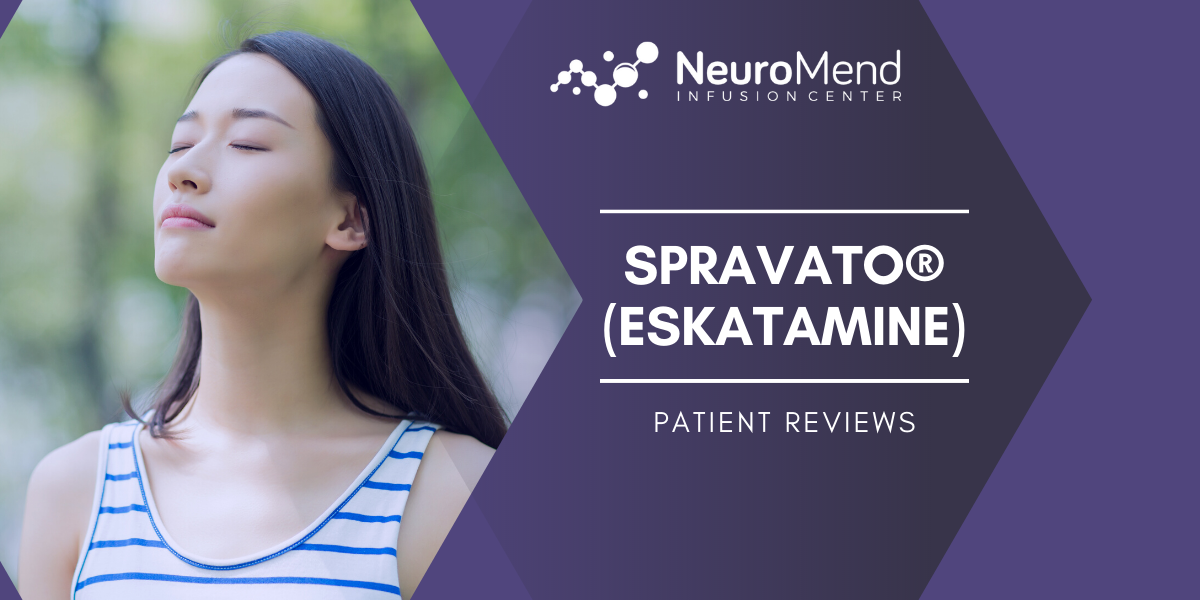 SPRAVATO™ is a prescription medicine, used along with an antidepressant taken by mouth, for adults with treatment-resistant depression (TRD) or depressive symptoms with major depressive disorder (MDD). Keep reading to learn more about Spravato™ and patients' success with it.
Spravato
™
was approved by the U.S. Food & Drug Administration (FDA) on March 5, 2019, and is only available to patients at REMS–certified treatment centers in the United States such as N
euroMend Infusion Center
.
Does Spravato really work?
Ultimately, Spravato™ is a great Ketamine alternative. Spravato™ can make a big difference in depression symptoms. In some cases, improvement occurred in as little as two days.
Patient TESTIMONIALS
One patient, Robin, is now able to enjoy the little things in life thanks to her success with Spravato™. Check out Robin's Spravato™ review:
"Depression has been a thread in my life for decades. When I was a young mother raising two children, I would spend hours a day in bed playing solitaire to block out my despair. I was diagnosed with major depressive disorder and spent years taking one antidepressant after another. Nothing worked for me. Eventually, I was diagnosed with treatment-resistant depression. I read about the clinical trials for SPRAVATO®, and my psychiatrist said I was a candidate.

"SPRAVATO® helped me get beyond the depression symptoms that held me back for so long. Today, I'm leading a class in mental health, building a greenhouse in my backyard and spending time at the beach with my dog, Oshi. I've been on SPRAVATO® and I go every other week for my treatment. Having my depression symptoms improve after a lifetime of struggle has been amazing."
Click here to read more inspiring stories from real people with really inspiring stories.
Spravato

™

vs Ketamine

While having the option to choose between ketamine and esketamine as a treatment - its important to recognize that these can be more beneficial when addressing specific diagnoses. Both medications are given under the direct supervision of trained healthcare providers.

Let's take a look at the details of both ketamine and esketamine, in terms of administration, dosage, bioavailability, administration time-frame, medication conjunction, treatment timeframe, diagnosis treated, and insurance coverage.

For more information on Spravato vs Ketamine, click here!
Administration

Ketamine is administered through an IV over a predetermined amount of time to slowly allow for the comfort and ease of transition into a relaxed state to enhance the cognitive effects of the treatment.


Spravato is self-administered over five to ten minutes in two to three successive intranasal sprays administered in five-minute increments.

Dosage

The dose is determined by weight and titrated to effectiveness and comfort of the patient.

Spravato comes in two doses 56mg and 84mg.

Your healthcare provider will select the appropriate dose based on your response to the treatment.

Bioavailability

The bioavailability of IV ketamine is 100%.

Meaning the dose that is given is the amount that will reach the brain.

Esketamine has a bioavailability of approximately 50%.

Things such as clogged nasal passages and swallowing part of the medication can affect the amount of medication that reaches the brain.

Administration
Time-Frame

Ketamine is administered in six
treatments over the course of two to three weeks.

Maintenance booster infusions are often needed, and the frequency is individualized based on the response of the client. These boosters may be given once a month to two to three times a year.

Weeks 1 to 4: Spravato is administered twice a week for eight doses.

Weeks 5 to 8: Once weekly

Week 9 and after:Every 2 weeks or once weekly*

*Dosing frequency will be individualized to the least frequent dosing to maintain remission/response.

Medication
Conjunction

Ketamine can be administered in

conjunction or as a single treatment for clients with MDD.


Spravato must be given in conjunction with an oral antidepressant.

Treatment
Time-Frame

IV ketamine treatment is approximately 1 hour and 15 mins to 1 and a half hours.


Spravato is a minimum of 2 hours after the initial dose is administered.

Insurance
Coverage

Currently insurance does not pay for the cost of ketamine treatment.

Your insurance provider may however reimburse you once treatment is received.

Your insurance may cover the cost of Spravato.

Your responsibility could be as little as $10 for each dose.
COVERAGE AND COST SUPPORT
The following insurance companies provide coverage for SPRAVATO™ at Neuromend Infusion Center:
Blue Cross Blue Shield

Gilsbar

Humana Military/ Triwest

Multiplan/ PHCS

Zelis/ PPO Plus

United Healthcare

United Behavioral Health

Cigna Behavioral Health

Peoples Health

Aetna
If your Insurance Provider is not in network, there may be other opportunities for financial assistance.
Visit our FAQ page to learn all you need to know about Spravato™.
Contact Us
We care about your well being. Contact us for more information about our offerings or schedule a free consultation with us.
---
ABOUT
NEUROMEND INFUSION CENTER

We are an Evidence-Based Center of Excellence and the leading provider of Ketamine Infusions, IV Infusions and Ketamine Consulting Services for Ketamine Clinics and IV Therapy Clinics.

We Provide Effective Treatment For The Following Conditions: Major Depressive Disorders, Post-traumatic Stress Disorder (PTSD), Bipolar Depression, Obsessive Compulsive Disorder (OCD), Chronic Migraines, Severe Anxiety, Fibromyalgia and Chronic Pain Syndromes - REMS Certified for Offering Spravato Esketamine.
Ask about NAD+ infusions for relief from the multitude of changes associated with age, age-related diseases, PTSD and chronic fatigue.