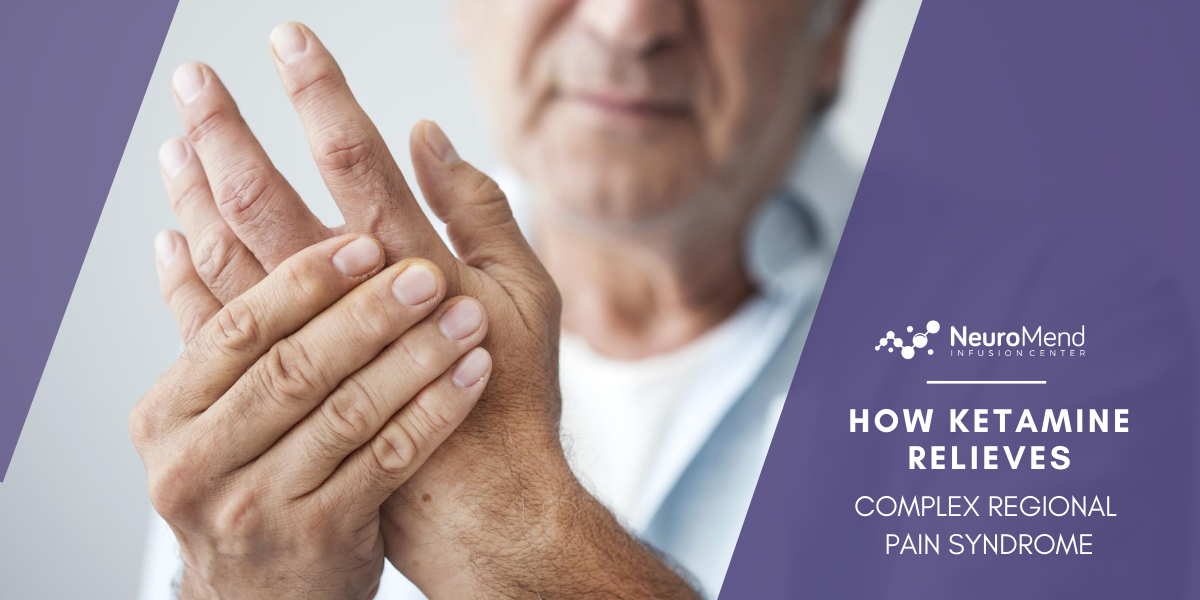 Ketamine is quickly gaining traction from its reputation as a "party drug" to its new found ability to provide relief to those suffering from treatment resistant depression and many facets of chronic pain.
Keep reading to discover exactly how Ketamine Infusions are being used to effectively treat those suffering from Complex Regional Pain Syndrome (CRPS).
What Is Complex Regional Pain Syndrome?
The National Institute of Neurological Disorders and Stroke classifies Complex Regional Pain Syndrome (CRPS) as "a chronic (lasting greater than six months) pain condition that most often affects one limb (arm, leg, hand, or foot) usually after an injury."
CRPS is more prevalent amongst Americans than most people believe, currently affecting up to 200,000 individuals in the United States, alone, in any given year.
How Do I Know If I Have CRPS?
While there currently is no "gold standard" for diagnosing CRPS, if you have been experiencing this type of pain for some time and it is getting worse (and not better), then look for the following signs and symptoms, per RSD.org, in order to assess if CRPS is the culprit of your pain:
Signs and Symptoms
Pain that is described as deep, aching, cold, burning, and/or increased skin sensitivity
An initiating injury or traumatic event, such as a sprain, fracture, minor surgery, etc., that should not cause as severe pain as being experienced or where the pain does not subside with healing
Pain (moderate-to-severe) associated with allodynia, that is, pain from something that should not cause pain, such as the touch of clothing or a shower
Continuing pain (moderate-to-severe) associated with hyperalgesia, that is, heightened sensitivity to painful stimulation)
Abnormal swelling in the affected area
Abnormal hair or nail growth
Abnormal skin color changes
Abnormal skin temperature, that is, one side of the body is warmer or colder than the other by more than 1°C
Abnormal sweating of the affected area
Limited range of motion, weakness, or other motor disorders such as paralysis or dystonia
Symptoms and signs can wax and wane
Can affect anyone, but is more common in women, with a recent increase in the number of children and adolescents who are diagnosed
What Are Some Types of Neuropathic Pain That Ketamine Can Help?
If medications and non-pharmacological interventions do not provide pain relief, IV ketamine therapy may be a treatment option.
Similar to depression, IV ketamine is known for its ability to help relieve medication-resistant chronic pain syndromes, especially those syndromes that have a neuropathic component, such as:
Complex regional pain syndrome type 1 (CRPS-1)
Post-herpetic neuralgia
How Do I Treat My Complex Regional Pain Syndrome?
While research continues to discover and test effective treatment for CRPS, Ketamine Infusions are showing promise with their current efficacy in providing relief for many previously treatment resistant patients.
Learn more about ketamine infusion therapy as a treatment for CRPS by clicking below:
---

We are an Evidence-Based Center of Excellence and the leading provider of Ketamine Infusions, IV Infusions and Ketamine Consulting Services for Ketamine Clinics and IV Therapy Clinics.

We Provide Effective Treatment For The Following Conditions: Major Depressive Disorders, Post-traumatic Stress Disorder (PTSD), Bipolar Depression, Obsessive Compulsive Disorder (OCD), Chronic Migraines, Severe Anxiety, Fibromyalgia and Chronic Pain Syndromes - REMS Certified for Offering Spravato Esketamine.