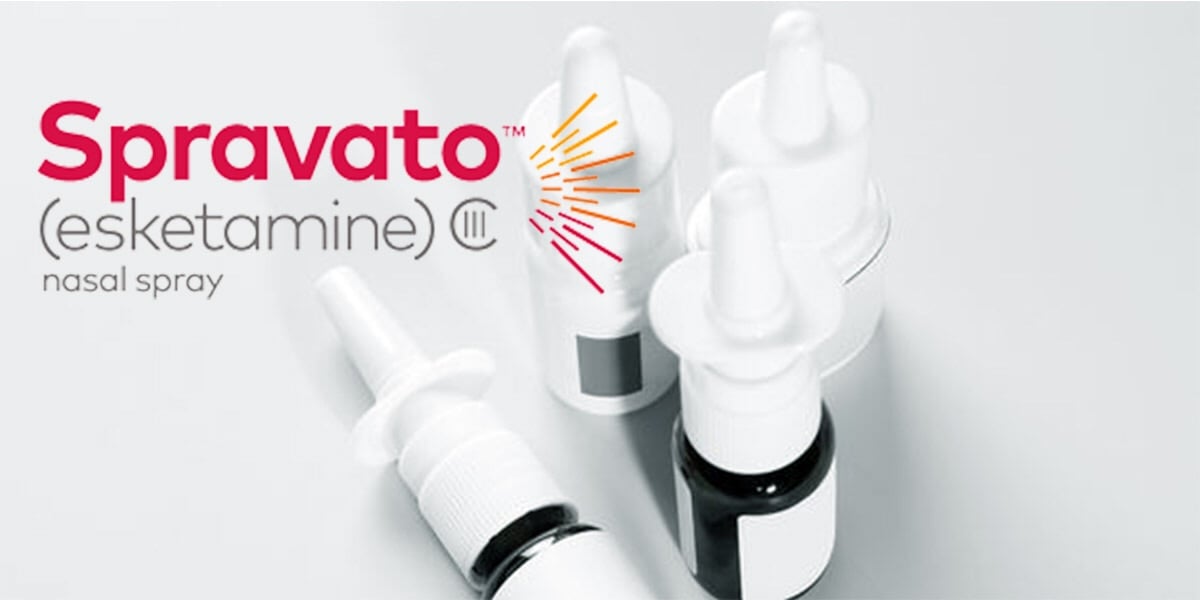 Effective immediately, the U.S. Food and Drug Administration has approved the use of Spravato (esketamine) nasal spray for the treatment of treatment-resistant depression, more commonly known as TRD.
Nearly 16 million adults battle significant depression, and up to a third do not respond to standard treatment, i.e., anti-depressants.
For those who do respond to conventional treatment, the therapeutic effect with common anti-depressant medications can take anywhere from 4-12 weeks to become apparent. Often, patients cannot wait that long for relief.
Tiffany Farchione, M.D., acting director of the Division of Psychiatry Products in the FDA's Center for Drug Evaluation and Research had this to say about the approval:
"Controlled clinical trials that studied the safety and efficacy of this drug, along with careful review through the FDA's drug approval process including a robust discussion with our external advisory committees, were important to our decision to approve this treatment.

Because of safety concerns, the drug will only be available through a restricted distribution system and it must be administered in a certified medical office where the health care provider can monitor the patient.

There has been a long-standing need for additional effective treatments for treatment-resistant depression, a serious and life-threatening condition,"
The FDA's approval of esketamine for the treatment of depression is a significant victory in the medical industry. For many years, the FDA has been pouring over the research to determine the efficacy of ketamine as an anti-depressant.
Numerous studies confirm ketamine's efficiency at battling depression as well as other ailments such as fibromyalgia and rheumatoid arthritis.
Financing Spravato
Insurance companies are beginning to jump on board as well. The use of Spravato is already seeing partial reimbursements, greatly increasing the amount of access patients have to the treatment.
Check out the new Spravato Savings Program!
Risk Evaluation and Mitigation Strategy (REMS) program
However, Spravato will not be available through all primary care physicians. Janssen, the creator of Spravato, has only certified a limited number of clinics for the use of their product.
Clinics must first pass a Risk Evaluation and Mitigation Strategy (REMS) program before they are cleared to administer the nasal spray.
There are specific requirements patients must meet as well before being approved for the use of Spravato. The best way to see if you're approved is to contact our clinic and schedule a consultation.
---

References
Alternative Treatments for Depression Found in Acadiana
Do I have Treatment-Resistant Depression?
Baton Rouge Sufferer Finds Depression Relief with Ketamine: A Testimony
FDA Data Supports Ketamine Infusions for Depression Therapy
How to get Insurance to Pay for your Ketamine Infusions
---

We are an Evidence-Based Center of Excellence and the leading provider of Ketamine Infusions, IV Infusions and Ketamine Consulting Services for Ketamine Clinics and IV Therapy Clinics.

We Provide Effective Treatment For The Following Conditions: Major Depressive Disorders, Post-traumatic Stress Disorder (PTSD), Bipolar Depression, Obsessive Compulsive Disorder (OCD), Chronic Migraines, Severe Anxiety, Fibromyalgia and Chronic Pain Syndromes - REMS Certified for Offering Spravato Esketamine