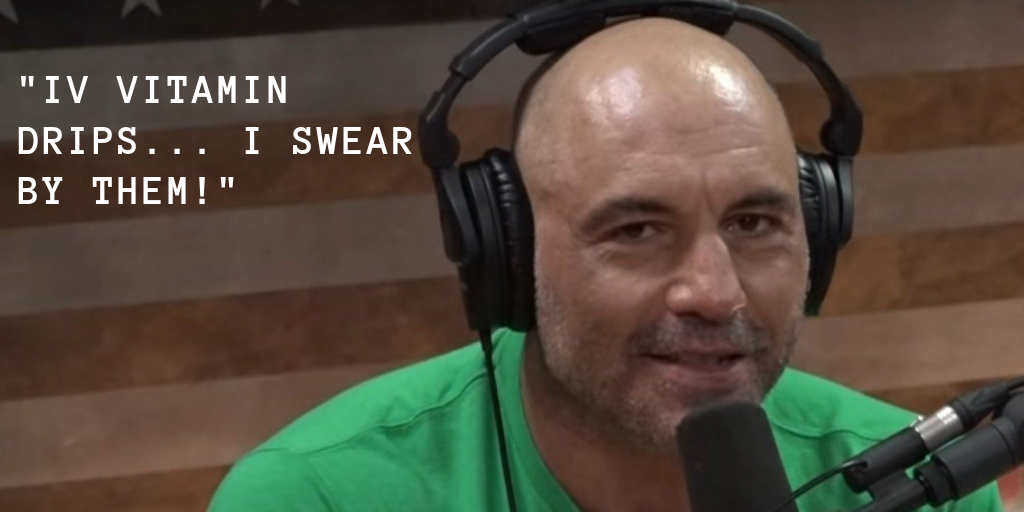 Read on to see what Joe Rogan and Brendan Schaub had to say about IV Vitamin Therapy.
On episode #74 of the Joe Rogan Experience Youtube show, Joe and Brendan take a moment and discuss their experience with IV vitamin drips.
With COVID-19 cases increasing in the last couple of weeks, we are faced with finding ways to be more proactive in preventing and fighting the Covid-19. Find out how to stay proactive in keeping your immune system healthy.
Joe's Thoughts On IV Therapy
Brendan's wife used them almost exclusively to battle and relieve her pregnancy nausea.
In reference to how he felt after receiving an IV therapy, Rogan quotes, "I felt like I was ready to run through a wall even on just 3 hours of sleep."
For more information regarding Spravato vs Ketamine, click here!
NEW! Check out Drip IV Lounge & Aesthetics in Baton Rouge, La!
🔽Click Below To Listen To The Entire Show🔽


---

We are an Evidence-Based Center of Excellence and the leading provider of Ketamine Infusions, IV Infusions and Ketamine Consulting Services for Ketamine Clinics and IV Therapy Clinics.

We Provide Effective Treatment For The Following Conditions: Major Depressive Disorders, Post-traumatic Stress Disorder (PTSD), Bipolar Depression, Suicidal Ideations, Obsessive Compulsive Disorder (OCD), Chronic Migraines, Severe Anxiety, Fibromyalgia and Chronic Pain Syndromes - REMS Certified for Offering Spravato Esketamine
Ask about NAD+ infusions for relief from the multitude of changes associated with age, age-related diseases, PTSD and chronic fatigue.