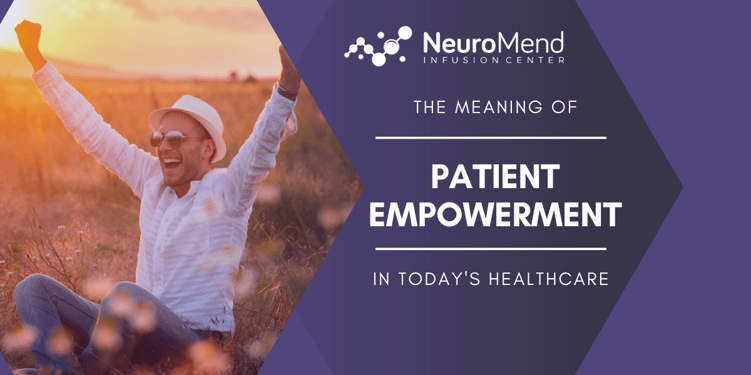 Throughout the history of medicine, the patient has most often been the one that empowers the physician. They empower the surgeons with authority and expertise to conduct their operation. They empower their OBGYN's with the authority to manage not only their pregnancies but the birth of their children.
Yet, for some reason, patients have fallen into somewhat of a trap.
Perhaps it is due to habit or sheer carelessness, but they have also hopelessly empowered their physicians with the responsibility and care of their self-inflicted chronic disease.
Read on to learn more about how patients can learn to own their own destiny in improving or resolving their chronic diseases.
While we could spend countless hours discussing the topic of chronic disease management, that isn't what this post is intended to cover. We are here to discuss the transfer of responsibility as it pertains to the doctor/patient relationship.
Patient Empowerment
Dr. Halsted Holman, a professor at the Stanford University School of Medicine, is not only considered an expert in "patient empowerment", but he has personal stake in the game, given that he has chosen to tackle his own slice of chronic disease.
Currently working to conquer his osteoarthritis, Holman has been dealt a fairly significant hand in his preparation for such a battle. Decades before acquiring his arthritis, Holman pioneered self-management programs for arthritis patients along with the help of Kate Lorig, Ph.D.
He states, "It's been helpful to me, knowing how to put myself in the context of chronic illness and to begin to deal with it."
He makes a valid point. How can physicians learn to better immerse themselves in the disease state, itself?
Responsibilty for your role
One suggestion might be to ask the patient better questions and to listen to what they have to say about their experience. But, of course, that would require both the patient and the doctor to each take responsibility for their role in the process.
So, how has America's health landscape changed so much as to shift the ownership of the health problems so drastically?
If you ask Holman, he believes that over the past 30 years the nation's primary health problem has changed from acute disease (infections and trauma) to diseases that are chronic in nature (such as diabetes, heart disease, and arthritis).
Today, nearly half of the U.S. population has a chronic medical condition. And, in order to care for these chronic illnesses, America must sacrifice 78% of its healthcare budget. 78%!
"The leadership in American academic medicine and in health policy has basically failed to respond to that change", states Holman.
He goes on, "as a result, we have both ineffectiveness and inefficiency in healthcare."
Shocker, right?
Who would have thought that if you bring a knife to a gun fight, failure is imminent?
You can't fight chronic disease with the same tools that you bring to the acute healthcare battlefield. It just doesn't work. (As our current state of health gleams with embarrassing proof)
Given Holman's personal and academic experience with patient empowerment, he advocates four principles of personalized and self-managed medicine that could quite possibly eliminate the current health dilemma that America finds itself in. (The italicized briefings are of my own interpretation)
1. There is no complete cure for chronic illness unless the cause of the individual's own disease is discovered and successfully managed; individualized management over time is essential.

(The Importance of

Root Cause Resolution

.

Find the source; pills only cover up the symptoms)
2. For effective treatment of chronic illness, the individual must engage continually in different approaches to his or her health.

(Patients must start owning their

own health choices

and thus ridding the American healthcare budget of the consequences.)
3. The individual knows the most about his or her own condition and about the effects of certain therapies and must apply that knowledge in shaping a self-management program.

(Patients must bring their own expertise of "self" to the battle. Asking your doctor to erase the damage done by your

lifestyle choices

hasn't seemed to work.)
4. To achieve success, the individual and the individual's health professionals must share knowledge and divide authority.

(The patient and the practitioner must collaborate on the process and own each of their individual roles that are necessary for success.)
Owning and operating a collaborating health clinic, I couldn't agree more with Holman. Yet, he isn't the only renegade challenging the current health system. There are numerous functional medicine practitioners partnering with their patients and changing the landscape as we speak.
As our healthcare system continues to struggle, one thing remains steady: until patients change their approach to their health and their relationships with their physicians, improvement is hopeless.
Holman agrees, "old solutions rarely continue to work."
Partner with us today
If you are ready to truly partner with your healthcare practitioner and change the dynamic of your current health status and the trajectory of its future, then take the next step and contact us!
Disclaimer: As of September 29, 2023, NeuroMend no longer offers Spravato treatments. We apologize for any inconvenience and encourage you to consult with our team or your healthcare provider for alternative options.
---

We are an Evidence-Based Center of Excellence and the leading provider of Ketamine Infusions, IV Infusions and Ketamine Consulting Services for Ketamine Clinics and IV Therapy Clinics.

We Provide Effective Treatment For The Following Conditions: Major Depressive Disorders, Post-traumatic Stress Disorder (PTSD), Bipolar Depression, Obsessive Compulsive Disorder (OCD), Chronic Migraines, Severe Anxiety, Fibromyalgia and Chronic Pain Syndromes