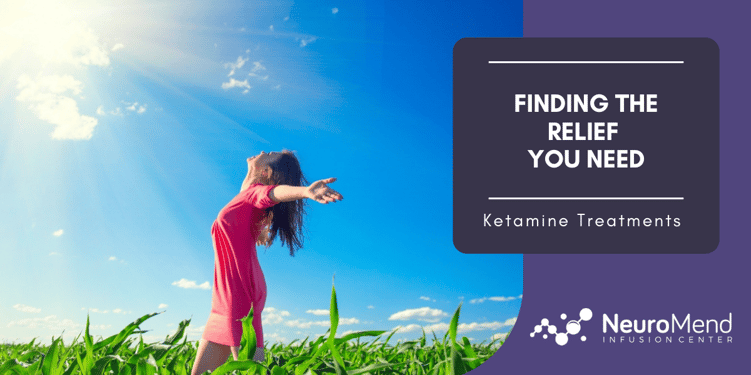 Can you find relief through Ketamine treatments? Keep reading to find out more about Ketamine and if it's the right treatment for you.
Is Ketamine Treatment Right for Me?
Ketamine may not be for everyone! Let's find out if it's right for you. Ketamine treatments and Spravato can relieve your chronic depression symptoms. The first step is picking up the phone. Give us a call and ask questions. We are more than ready to answer any question you may have about treatments we offer.
Success Story
What does success look like with Ketamine treatments? Let's dive into the steps a patient of ours took to find the relief she deserved.
Step 1: Talk about diagnosis and other previous treatments.
Step 2: Schedule your first appointment.
Step 3: Come in and sit in one of our comfy chairs and begin your treatment.
For this particular patient, treatment for her was astounding and life changing. After about the third treatment she began to notice higher energy levels, her appetite increased, and she found herself wanting to get out and do things more often. Ketamine treatments was the right treatment for her!
She had been through many years of suffering taking medication after medication and seeing provider after provider. She even ended up in an inpatient treatment center. Suicidal thoughts plagued her every day. After just a few ketamine treatments, she had finally found relief.
Cutting Edge Treatment
We've been doing this for over four years. We have plenty of examples of successful treatments that we'd love to discuss with you. NeuroMend Infusion Center is an Evidence-Based Center of Excellence. We are rooted in the recent scientific findings that low-dose ketamine infusions are effective in relieving the debilitating symptoms of:
Our patient's evidenced-based improvements will be used to measure results, to further research, and to improve patient outcomes.
Contact Us
Reach out to us! Don't spend another minute suffering when there might be a treatment out there for you.
---

We are an Evidence-Based Center of Excellence and the leading provider of Ketamine Infusions, IV Infusions and Ketamine Consulting Services for Ketamine Clinics and IV Therapy Clinics.

We Provide Effective Treatment For The Following Conditions: Major Depressive Disorders, Post-traumatic Stress Disorder (PTSD), Bipolar Depression, Obsessive Compulsive Disorder (OCD), Chronic Migraines, Severe Anxiety, Fibromyalgia and Chronic Pain Syndromes - REMS Certified for Offering Spravato Esketamine.