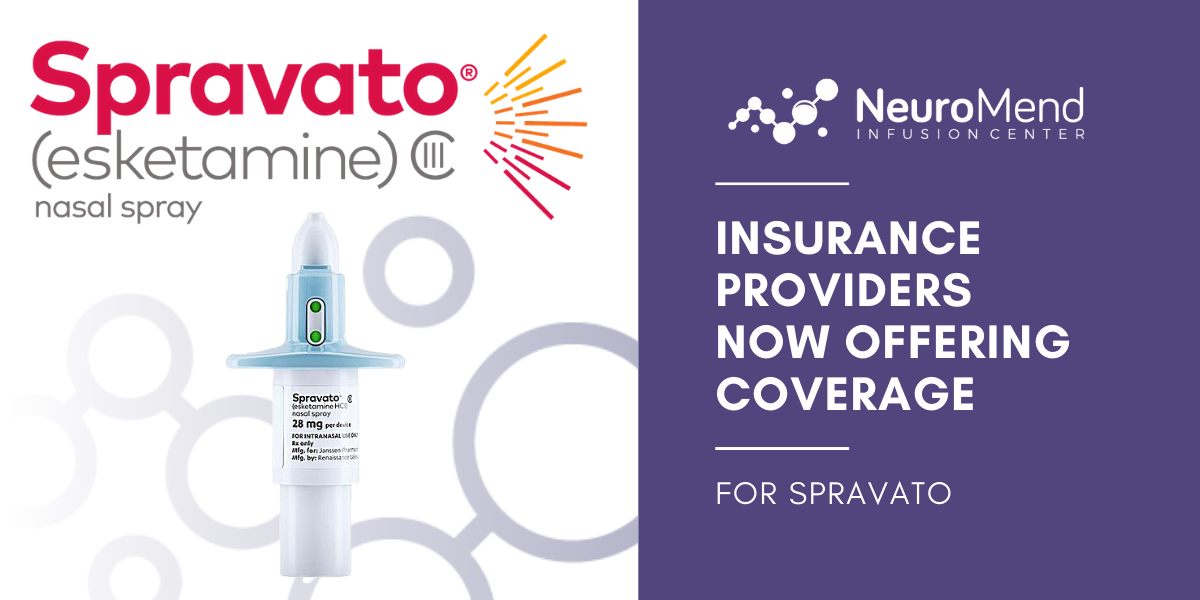 The FDA approved form of Ketamine (Spravato or Esketamine) hitting the market has sparked many consumers' curiosity. What is it? Is it covered by my insurance? Keep reading for answers to a few questions you may have about Spravato™.
Insurance providers are now offering coverage for SPRAVATO™!
People who are currently struggling with major depressive disorder (MDD) may have treatment resistant depression (TRD) if they have not responded adequately to at least two different antidepressants of adequate dose and duration in the current depressive episode. Spravato™ is a great treatment option for these people.
What is SPRAVATO
™

(esketamine) CIII nasal spray?

Spravato™ is a prescription medicine (nasal spray), used along with an antidepressant taken by mouth to treat:
Adults with treatment-resistant depression (TRD)

Depressive symptoms in adults with major depressive disorder (MDD) with suicidal thoughts or actions
Spravato
™
was approved by the U.S. Food & Drug Administration (FDA) on March 5, 2019, and is only available to patients at REMS–certified treatment centers in the United States such as N
euroMend Infusion Center
.
The following insurance companies provide coverage for SPRAVATO™ at Neuromend Infusion Center:
Blue Cross Blue Shield
Gilsbar
Humana Military/ Triwest
Multiplan/ PHCS
Zelis/ PPO Plus
United Healthcare
United Behavioral Health
Cigna Behavioral Health
Peoples Health
Aetna
Be sure to connect with us even if your provider isn't listed for potential opportunities to receive financial assistance.
Learn More
Click for more information and find out if this treatment is right for you.

We are an Evidence-Based Center of Excellence and the leading provider of Ketamine Infusions, IV Infusions and Ketamine Consulting Services for Ketamine Clinics and IV Therapy Clinics.

We Provide Effective Treatment For The Following Conditions: Major Depressive Disorders, Post-traumatic Stress Disorder (PTSD), Bipolar Depression, Obsessive Compulsive Disorder (OCD), Chronic Migraines, Severe Anxiety, Fibromyalgia and Chronic Pain Syndromes - REMS Certified for Offering Spravato Esketamine.