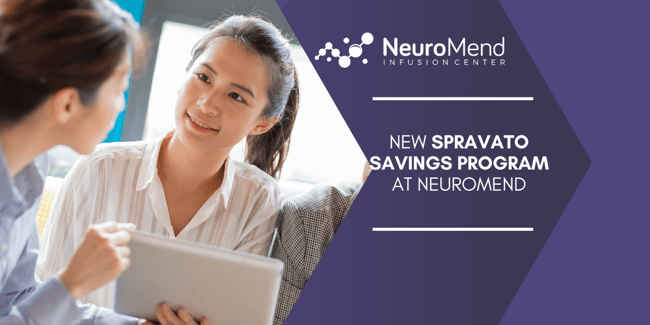 NeuroMend customers can now receive savings on your out-of-pocket medication costs for Spravato™!

What is Spravato?
Spravato™ is a prescription medicine (nasal spray), used along with an antidepressant taken by nose to treat:
Spravato™ was approved by the U.S. Food & Drug Administration (
FDA
) on March 5, 2019, and is only available to patients at REMS–certified treatment centers in the United States such as N
euroMend Infusion Center
.
Ultimately, Spravato™ is a great Ketamine alternative. Spravato™ can make a big difference in depression symptoms. In some cases, improvement occurred in as little as two days.
Visit our FAQ page to learn all you need to know about Spravato™.
Spravato™ Savings Program
What's the deal?
Janssen CarePath is now offering a new savings program for eligible commercially insured patients!
Eligible patients can pay $10 per treatment for Spravato™ medication costs!
How does the Spravato™ Savings Program work?
Patients can receive up to $8,150 maximum program benefit each calendar year. Depending on how your insurance covers Spravato™, there is a program benefit limit of
List price of the medication and a quantity limit of three devices per day or 23 devices in a 24-day period
A quantity limit of 24 devices in a 24-day period for one use per lifetime
Terms expire at the end of each calendar year and may change. See program requirements.
How do I apply?
You must be enrolled in the Savings Program before receiving your Janssen medication in order to qualify for out-of-pocket cost savings.
Once enrolled, you can share your Savings Program card with your doctor or pharmacist to receive savings on your Spravato™ medication costs.
You can enroll in the Savings Program by
How do I use my Savings Program benefits?
How your card can be used depends on the insurance you use to pay for your medication.
If you use your medical/ primary insurance to pay for your medication through your doctor, treatment provider, or pharmacy:
You may use the card to submit a rebate for reimbursement, OR
You may assign your Savings Program benefits directly to your treatment provider. Please discuss this option with your treating provider.
If you use your pharmacy/ prescription insurance to pay for your medication from a pharmacy:
You may use your card (provide your Member ID #, Rx BIN #, and Group #) to receive instant savings off the cost of your medication
The pharmacy will collect your co-pay
If you are looking to submit an Explanation of Benefits (EOB) for a rebate check to be sent directly to you, download the Medical Benefit Rebate form below.
Now Accepting Spravato™ Savings Program at NeuroMend
We are all about your healthcare and look forward to helping deliver the care you need at the price you deserve. Give us a call and we can guide you through the process!
Contact us for more information about our offerings or schedule a free consultation.
---

We are an Evidence-Based Center of Excellence and the leading provider of Ketamine Infusions, IV Infusions and Ketamine Consulting Services for Ketamine Clinics and IV Therapy Clinics.

We Provide Effective Treatment For The Following Conditions: Major Depressive Disorders, Post-traumatic Stress Disorder (PTSD), Bipolar Depression, Obsessive Compulsive Disorder (OCD), Chronic Migraines, Severe Anxiety, Fibromyalgia and Chronic Pain Syndromes - REMS Certified for Offering Spravato Esketamine.