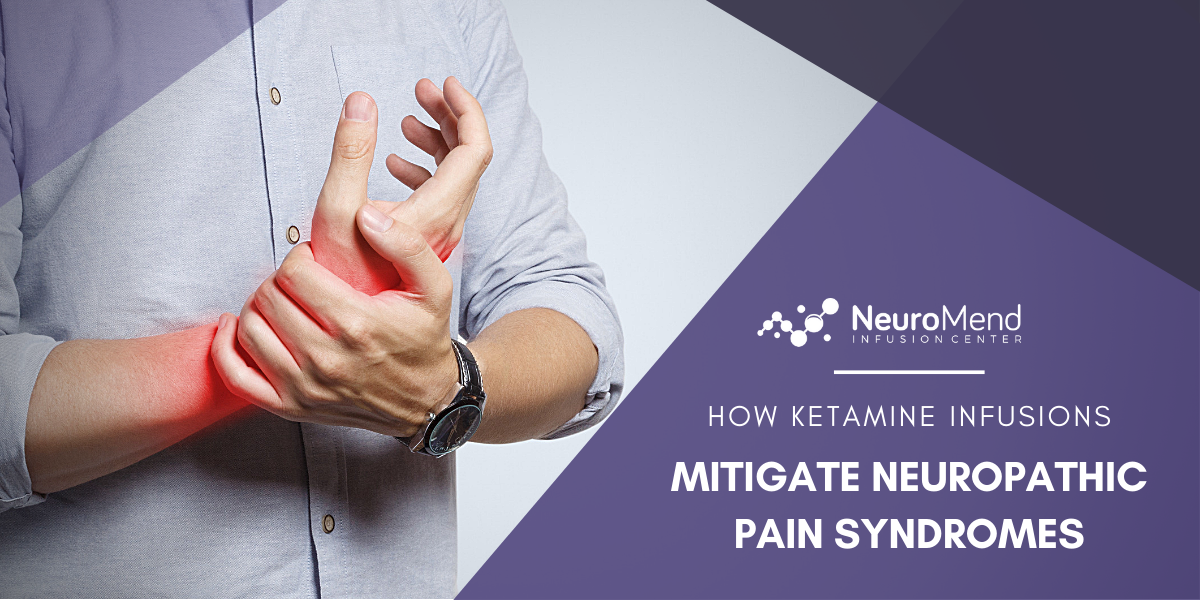 Ketamine infusions are a hot and effective topic right now in the depression space.
Their ability to provide relief to those suffering from treatment resistant depression is quickly changing Ketamine's previous reputation from that of a party drug to a super effective depression relief therapy.
But, what many patients want to know is, aside from depression, are Ketamine infusions effective for treating or relieving neuropathic pain syndromes.
Keep reading to discover exactly how Ketamine Infusions are being used effectively to mitigate or severely decrease neuropathic pain.
What is Neuropathic Pain?
Neuropathic pain is described as pain that originates either from damage to a specific area of the body or disease. Either of these cause the pain by affecting the somatosensory nervous system negatively.
Neuropathic pain can either be classified as continuous or episodic in nature.
What Are Some Types of Neuropathic Pain That Ketamine Can Help?
If medications and non-pharmacological interventions do not provide pain relief, IV ketamine therapy may be a treatment option.
Similar to depression, IV ketamine is known for its ability to help relieve medication-resistant chronic pain syndromes, especially those syndromes that have a neuropathic component, such as:
While much more research is needed in testing Ketamine's effectiveness for different types of neuropathic pain, the above ailments have shown benefit, relief, or mitigation through the use of effective Ketamine infusion protocols.
Research To Showcase Ketamine's Effectiveness In Reducing Pain
As research continues to occur and results are analyzed, we believe Ketamine (in addition to the combination of Ketamine and NAD therapy) will start to be utilized for many neurological conditions beyond that of depression, which it is mainly known for these days.
Study - Efficacy of outpatient ketamine infusions in refractory chronic pain syndromes
Background
This study (link here) evaluated whether outpatient intravenous ketamine infusions were satisfactory for pain relief in patients suffering from various chronic intractable pain syndromes.
The study was designed using 49 patients undergoing a total of 369 ketamine infusions. Among the patients, 18 (37%) had a diagnosis of complex regional pain syndrome (CRPS).
Of the remaining 31 (63%) patients, eight had refractory headaches and seven had severe back pain. All patients reported significant reduction in VAS score of 5.9 (standard error [SE] 0.35).
Conclusion
The authors concluded that in patients with severe refractory pain of multiple etiologies, sub-anesthetic ketamine infusions may improve VAS scores.
In half of the patients, relief lasted for up to 3 weeks with minimal side effects.
Study -Analgesic effects of ketamine infusion therapy
Background
There is also this study where they tested the analgesic effects of ketamine infusion therapy in Korean patients with neuropathic pain.
Conclusion
The authors found that the overall VAS score for pain decreased from a baseline mean (SD) of 7.20 (1.77) to 5.46 (2.29) (P < 0.001) 2 weeks after treatment.
Read complete study - Link Here
Study - Comparative Study between Intravenous Ketamine and Lidocaine Infusion
Background
Other researchers also looked at Ketamine's positive effect on pain in comparison to injecting Lidocaine for treating Refractory Trigeminal Neuralgia.
Conclusion
The results showed that both groups were comparable regarding age, gender and site of pain. A significantly longer duration of pain relief was noticed in the Ketamine group when compared to the Lidocaine group at 2 weeks, 1 month, 2 months and 3 months.
Read complete study - Link Here
Study -Multi-day low dose ketamine infusion as adjuvant to oral gabapentin in spinal cord injury related chronic pain
Background
A final interesting double-blind study sought to determine the safety and efficacy of adding a multi-day low dose ketamine infusion to oral gabapentin for treating chronic pain related to post spinal cord injury.
Conclusion
The authors concluded that the multi-day low dose ketamine infusion as adjuvant to gabapentin in post-spinal cord injury related chronic pain is safe and efficacious in reducing pain.
Read complete study - Link Here.
What treatment is best for you for pain?
Contact NeuroMend for further information and to see which option will be best for your treatment.
Visit our FAQ section to learn more about ketamine infusions and how these can help mitigate your condition.
---

We are an Evidence-Based Center of Excellence and the leading provider of Ketamine Infusions, IV Infusions and Ketamine Consulting Services for Ketamine Clinics and IV Therapy Clinics.

We Provide Effective Treatment For The Following Conditions: Major Depressive Disorders, Post-traumatic Stress Disorder (PTSD), Bipolar Depression, Obsessive Compulsive Disorder (OCD), Chronic Migraines, Severe Anxiety, Fibromyalgia and Chronic Pain Syndromes - REMS Certified for Offering Spravato Esketamine.